MS: 5 Stories To Watch | Evernote Breach: Enterprise IT Lessons
QUOTE OF THE DAY

"Suspicion always haunts the guilty mind." -- William Shakespeare

ALSO SEE JOIN THE CONVERSATION Posted By moarsauce123:

"The free for all do whatever you want when you want 90s web bubble spirit clearly does not work for Yahoo, so something had to change. I think everyone should give it a rest for now and check back in six months."

In reply to: "Yahoo Flap: Should IT Leaders Ban Work At Home?" View Entire Response

|

Post Your Own Reply
INSIDE THIS WEEK'S ISSUE OF INFORMATIONWEEK: GET (TRULY) SOCIAL

Companies must build more social networking bridges to customers, suppliers and partners -- not just among internal users.

Also in our new, all-digital issue:

Instead of worrying about overseas hackers, worry about the sorry state of your information security defenses.

DOWNLOAD NOW FREE (Registration Required)

REPORTS & WHITEPAPERS
FEATURED WHITEPAPERS Strategy, 5 Keys To Painless Encryption

Encryption is frequently used as the primary method to keep data from being stolen or destroyed. This survey profiles the struggles most IT groups have when trying to manage encryption products. Simply put, the old adage that encryption is easy, key management is hard still holds. But we think the game is changing. If you feel stuck with hard decisions and are seeking guidance when it comes to encryption, read on.


Download Now (Registration Required) The Case For Better Software Configuration Management And Agile Processes

SCM systems play an important supporting role in audit - and compliance - related tasks, but many corporations are lacking in this area. Find out why SCM solutions are central to the success of software development, deployment and support, they are uniquely suited to help developers meet the challenges of audit, compliance and the move to agile development.


Download Now (Registration Required)
MOST POPULAR NEWS
RESOURCES AND EVENTS
Don't Miss Interop Las Vegas
Attend Interop Las Vegas, May 6-10, and attend the most thorough training on Apple Deployment at the NEW Mac & iOS IT Conference. Use Priority Code MPIWK by March 22 to save up to $200 off the price of Conference Passes. Join us in Las Vegas for access to 125+ workshops and conference classes, 350+ exhibiting companies, and the latest technology.
Get More Details And Register Today
This e-mail was sent to

EmailAddress

InformationWeek Daily

-- Published By

InformationWeek

600 Community Drive

Manhasset, NY 11030

To update your profile, change your e-mail address, or unsubscribe,

click here.

Thoughts about this newsletter?

Give us feedback.

Keep This Newsletter Out Of Your SPAM Folder

Don't let future editions of InformationWeek Daily go missing. Take a moment to add the newsletter's address to your anti-spam white list:

email@techwebnewsletters.com

If you're not sure how to do that, ask your administrator or ISP.

Or check your anti-spam utility's documentation.

We take your privacy very seriously. Please review our

Privacy Statement.

Slideshows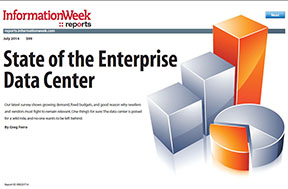 Research: 2014 State of the Data Center
Our latest survey shows growing demand, fixed budgets, and good reason why resellers and vendors must fight to remain relevant. One thing's for sure: The data center is poised for a wild ride, and no one wants to be left behind.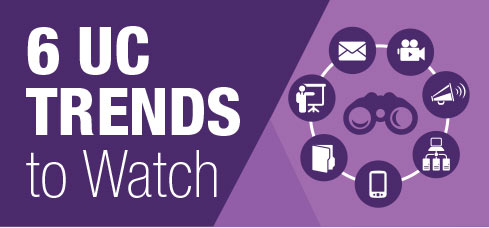 6 UC Trends to Watch
InformationWeek's 2014 Unified Communications Survey shows a revitalized market; 77% of 488 respondents have deployed UC or plan to within 24 months. Among those deploying or with plans, internal IT owns this tech: 40% will keep UC completely on premises vs. 3% going all cloud. For hybrid setups, 24% are primarily on premises vs. 17% mostly cloud.