Microsoft Releases Emergency IE Patch
| | |
| --- | --- |
| | Wednesday, March 31, 2010 |
QUOTE OF THE DAY...

"Forget injuries, never forget kindnesses."


-- Confucius

Microsoft Releases Emergency Internet Explorer Patch
Users of Internet Explorer 6 and 7 are most at risk.

RELATED INSIGHTS
• Mozilla To Patch Critical Firefox Bug
• Adobe, The New King Of Security Holes
• Top 10 Security Challenges For 2010


ALSO SEE
Bank Of America Taps Cisco For TelePresence
Under a managed service agreement, Cisco will install 200 TelePresence units and provide monitoring, support, and maintenance.


Verizon Intros Push To Talk For BlackBerry

The service is available to enterprise customers using RIM's BlackBerry Tour 9630 smartphone.
More Connecting TV To Web
Consumers' growing use of PCs and game consoles to access the Internet on TV bodes well for the future of connected TVs, say analysts.


Obama Nominates Defense IT Chief

Teri Takai has been CIO of Michigan and California, winning numerous plaudits along the way.
USDA Awards $500 Million IT Contract

SRA International has been tapped to implement a SAP-based system to modernize the Department of Agriculture's business process systems.
Apple Updates Snow Leopard

The update will improve stability, application compatibility, and security within the Mac and server versions of the operating system.
NHIN Direct Focus Is Health Data Exchange Specs

Nationwide Health Information Network (NHIN) Direct aims to develop interoperability specs, but not to replace statewide and regional health information exchanges.
FAA Teams With IBM On Cybersecurity

The Federal Aviation Administration is using InfoSphere Streams software from IBM to perform "predictive security analytics" on massive volumes of data.
NASA Archiving Social Networking Activity

The U.S. space agency has teamed with The Internet Archive to archive its image, video, and audio collections in a single, searchable resource.
Verizon iPhone Could Come This Year
An Apple iPhone that would run on Verizon Wireless's CDMA network could go into production by September.


---------------------------------------------
This issue sponsored by Quantum:
---------------------------------------------
Latest Resources from the Data Deduplication and Replication Center:
- Reduce storage and network bandwidth by 90%.
- Quantum Cuts Backup Times at U.S. Army Command
- D2D2T Backup Architectures and the Impact of Data Deduplication
- Achieved 95% reduction in Backup Volume.
Find out who did!
ANALYTIC REPORTS & WHITEPAPERS
2010 IT Salary Survey
Stagnant pay is easy to spot in our U.S. IT Salary Survey. But pay attention to the consequences: employees worried about their jobs, craving recognition, and preparing to leave if opportunity knocks. Check out the full, in-depth report.
Download Now (Registration Required)

FEATURED WHITEPAPERS

Comprehensive Application Security Solution Revealed
Continuous application availability begins with a comprehensive application protection solution. Understand how the comprehensive security features of Citrix NetScaler protect against DoS/DDoS, deliver intrusion filtering capabilities for application-level protection, and provide complete, hardware-based encryption to offload CPU-intensive cryptographic functions from the servers. Download Now



Modeling the Virtual Data Center
Control who manages your infrastructure, what systems are being provisioned, how applications are designed and configured, and where and when they are deployed. Download Now


FEATURED BLOG

Get To Know The Storage I/O Chain
By George Crump
Storage performance problems are often circular challenges. You fix one bottleneck and you expose another one. You can't really fix storage I/O, all you can do is get it to the point that people stop blaming storage for the performance problems in the data center. Getting there requires knowing the storage I/O chain.


ALSO SEE
If You've Got Big Data, You May Want Big Memory
By Charles Babcock
Jas Dhillon, CTO of Taser, explained to me last December how his company has gone from delivering stunning shocks to unruly police suspects to shocking the competition via cloud computing. In continuing to follow its innovative approach, I found a story behind the story of how Taser was able to do this.


Apple Updates iTunes Ahead Of iPad Launch
By Eric Zeman
Today Apple made iTunes version 9.1 available via its software update tools. The new version of iTunes offers just a handful of new features, mostly geared toward Saturday's launch of the iPad.


BlackBerry 9630 Tour Receives OS 5.0 From Verizon
By Eric Zeman
If you're using a BlackBerry 9630 Tour on the Verizon Network, head on over to the Verizon Wireless support pages. Verizon is offering a huge system upgrade to system software 5.0. New features and improvements abound.


Verizon Teases Motorola Droid Owners Yet Again
By Eric Zeman
According to an internal memo, Verizon has resumed rolling out the Android 2.1 update to users of the Motorola Droid. Don't go scrambling for your device quite yet, however.


Implementing Smart Compliance
In this webcast, you will learn how to adopt integrated controls that enables organizations have a clear, unified view of who is accessing what. You'll also learn how to implement preventative, detective and corrective controls for managing user life-cycle as per compliance and security requirements -- and much more!

It happens April 8, 2010 at 11:00 AM PT / 2:00 PM ET

More Information & Registration



---------------------------------------------
This issue sponsored by Quantum:
---------------------------------------------
Latest Resources from the Data Deduplication and Replication Center:
- Reduce storage and network bandwidth by 90%.
- Quantum Cuts Backup Times at U.S. Army Command
- D2D2T Backup Architectures and the Impact of Data Deduplication
- Achieved 95% reduction in Backup Volume.
Find out who did!
InformationWeek Daily Newsletter

-- Published By

InformationWeek

600 Community Drive

Manhasset, NY 11030

To subscribe to our other newsletters, change your e-mail
address or format (Text/HTML) or to unsubscribe, click here


This e-mail was sent to %%email%%



Keep Getting This Newsletter

Don't let future editions of InformationWeek Daily go missing.

Take a moment to add the newsletter's address to your anti-spam white list:

email@techwebnewsletters.com

If you're not sure how to do that, ask your administrator or ISP.

Or check your anti-spam utility's documentation.

We take your privacy very seriously. Please review our

Privacy Statement.

GET MORE OUT OF INFORMATIONWEEK

Keep up with the latest news, insights and trends as InformationWeek reports them:

Slideshows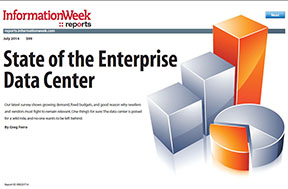 Research: 2014 State of the Data Center
Our latest survey shows growing demand, fixed budgets, and good reason why resellers and vendors must fight to remain relevant. One thing's for sure: The data center is poised for a wild ride, and no one wants to be left behind.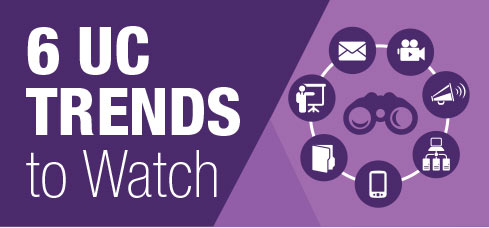 6 UC Trends to Watch
InformationWeek's 2014 Unified Communications Survey shows a revitalized market; 77% of 488 respondents have deployed UC or plan to within 24 months. Among those deploying or with plans, internal IT owns this tech: 40% will keep UC completely on premises vs. 3% going all cloud. For hybrid setups, 24% are primarily on premises vs. 17% mostly cloud.