DDoS Spam Feud Backfires | Windows Blue Gets Real
QUOTE OF THE DAY

"A little government and a little luck are necessary in life, but only a fool trusts either of them." -- P.J. O'Rourke

Exclusive for IWK Readers: Cloud Connect

returns to Silicon Valley,

April 2-5, 2013,

for four days of lectures, panels, tutorials and roundtable discussions on a comprehensive selection of cloud topics taught by leading industry experts.

Use Priority Code MPIWK

by March 31 to

save an extra $200

off the advance price of Conference Passes.

JOIN THE CONVERSATION Posted By jemison288:

"Do you really not see a difference between the Netflix OSS approach to interacting with the cloud compared to the Scalr approach?"

In reply to: "How Netflix Is Ruining Cloud Computing" View Entire Response

|

Post Your Own Reply
INSIDE THIS WEEK'S ISSUE OF INFORMATIONWEEK

Companies want more than they're getting today from big data analytics. But small and big vendors are working to solve the key problems.

Also in the new, all-digital issue of InformationWeek: Jay Parikh, the Facebook's infrastructure VP, discusses the company's big data plans.

DOWNLOAD NOW FREE (Registration Required)

REPORTS & WHITEPAPERS
FEATURED REPORTS
Strategy: 5 Top BYOD Threats For 2013
Mobility is here to stay, and smart IT departments aren't ignoring it -- they're taking proactive steps to address the security issues of the bring-your-own-device movement. Here are the biggest problem areas to watch for, and three smart steps you can take to protect your company's data.
Download Now (Registration Required)



Buyer's Guide: PaaS Providers
The platform-as-a-service value proposition is so strong, and so aligned with business and developer interests, that it's a matter of when, not if, PaaS becomes the standard for Web applications. It's time to evaluate your options and plan a migration strategy. This report, the companion to our online comparison, explains the 7 key factors to consider.
Download Now (Registration Required)
MOST POPULAR NEWS
RESOURCES AND EVENTS
This e-mail was sent to

EmailAddress

InformationWeek Daily

-- Published By

InformationWeek

600 Community Drive

Manhasset, NY 11030

To update your profile, change your e-mail address, or unsubscribe,

click here.

Thoughts about this newsletter?

Give us feedback.

Keep This Newsletter Out Of Your SPAM Folder

Don't let future editions of InformationWeek Daily go missing. Take a moment to add the newsletter's address to your anti-spam white list:

email@techwebnewsletters.com

If you're not sure how to do that, ask your administrator or ISP.

Or check your anti-spam utility's documentation.

We take your privacy very seriously. Please review our

Privacy Statement.
Audio Interviews
Archived Audio Interviews
This radio show will provide listeners with guidance from Dell Storage experts, who can help you explore ways to simplify workload management while achieving a balance of price and performance.




Slideshows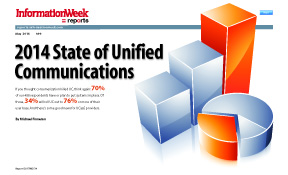 2014 State of Unified Communications
If you thought consumerization killed UC, think again: 70% of our 488 respondents have or plan to put systems in place. Of those, 34% will roll UC out to 76% or more of their user base. And there's some good news for UCaaS providers.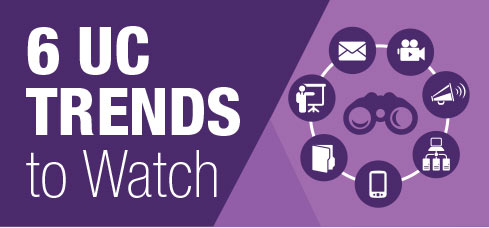 6 UC Trends to Watch
InformationWeek's 2014 Unified Communications Survey shows a revitalized market; 77% of 488 respondents have deployed UC or plan to within 24 months. Among those deploying or with plans, internal IT owns this tech: 40% will keep UC completely on premises vs. 3% going all cloud. For hybrid setups, 24% are primarily on premises vs. 17% mostly cloud.