China Hacks: Time To Play Offense?
QUOTE OF THE DAY

"Ego is to the true self what a flashlight is to a spotlight." -- John Bradshaw

JOIN THE CONVERSATION Posted By TSRL:

"The bottom line is many, if not most, companies today are only interested in short term goals 'for the shareholders.' Senior employees are usually paid more so they are the first ones to go if someone in upper management wants to reduce costs."

In reply to: "IT Age Discrimination Or Employee Inertia?" View Entire Response

|

Post Your Own Reply

REPORTS & WHITEPAPERS
MOST POPULAR NEWS
Google Nexus 4 Phone Slick, But Limited
Google's flagship Nexus 4 phone is a compelling entry in a crowded marketplace. During my testing the Nexus 4 proved a reliable, capable piece of hardware. The display is great, and its size and weight make it easy to slip into a pocket. But, there are some hardware limitations that will likely deter people from buying it — the 3G only, no micro SD expansion, most notably.
10 Best Android Apps Of 2012
Check out these 10 gems that stood out from the crowd of 700,000 Android apps.
Chromebook Pixel: My First Week Living In Cloud
After forsaking all other PCs for a week to work with just a Chromebook Pixel and an iPhone, I learned a few lessons about the post-PC era.
Windows 8 Sales Stall: 3 Strategies
Microsoft appears to have a plan for revitalizing Windows 8. But will it be enough to overcome the OS's disappointing launch?
9 Must-Know Java Security Facts
More than half of all Java users are still using Java 6, which Oracle officially retired last month. Is it time for a consumer recall?
RESOURCES AND EVENTS
Take Our Survey On Mobile Commerce -- You Could Win An iPod Mini
InformationWeek and Mobile Commerce World are looking for insight into the future of mobile commerce. In addition to analyzing trends and gathering insight, we also hope to provide a benchmark that various mobile commerce players can use to assess where they are compared with competitors and peers to better help them meet the needs of end users. Take our survey by March 22 and be eligible to win a an iPad Mini.
Take The Survey Now
This e-mail was sent to

EmailAddress

InformationWeek Daily

-- Published By

InformationWeek

600 Community Drive

Manhasset, NY 11030

To update your profile, change your e-mail address, or unsubscribe,

click here.

Thoughts about this newsletter?

Give us feedback.

Keep This Newsletter Out Of Your SPAM Folder

Don't let future editions of InformationWeek Daily go missing. Take a moment to add the newsletter's address to your anti-spam white list:

email@techwebnewsletters.com

If you're not sure how to do that, ask your administrator or ISP.

Or check your anti-spam utility's documentation.

We take your privacy very seriously. Please review our

Privacy Statement.

Slideshows
Audio Interviews
Archived Audio Interviews
Jeremy Schulman, founder of Schprockits, a network automation startup operating in stealth mode, joins us to explore whether networking professionals all need to learn programming in order to remain employed.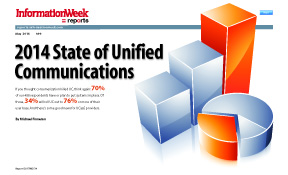 2014 State of Unified Communications
If you thought consumerization killed UC, think again: 70% of our 488 respondents have or plan to put systems in place. Of those, 34% will roll UC out to 76% or more of their user base. And there's some good news for UCaaS providers.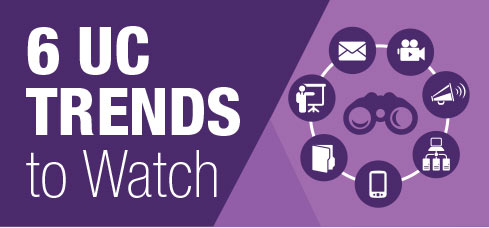 6 UC Trends to Watch
InformationWeek's 2014 Unified Communications Survey shows a revitalized market; 77% of 488 respondents have deployed UC or plan to within 24 months. Among those deploying or with plans, internal IT owns this tech: 40% will keep UC completely on premises vs. 3% going all cloud. For hybrid setups, 24% are primarily on premises vs. 17% mostly cloud.