Anonymous Calls Anonyupload A Scam | RIM's New CEO: Not Enough
MUST READ For RIM, New CEO Is Not Enough By Fritz Nelson

RIM needs new blood and fresh thinking, attributes it still lacks following Sunday's CEO shakeup.

RELATED • RIM Investors Give Thumbs Down On New CEO• RIM's New CEO: 5 Must-Do Items Anonymous Calls Anonyupload A Scam

Megaupload alternative promises "100% anonymous" platform for sharing files, providing it gets the required funds.

Apple CEO: Three Horses In Smartphone Race

Tim Cook says Microsoft's Windows Phone can't be counted out, but that Apple ignores rivals and focuses on innovation.

9 Ways To Minimize Data Breach Fallout

Symantec just revealed that attackers stole source code to its flagship Norton software in 2006, highlighting today's array of sharply different approaches to owning up to data breaches. Consider these essential policies.

7 Tools To Tighten Healthcare Data Security

Most of the largest healthcare data security and privacy breaches have involved lost or stolen mobile computing devices. Consider these tools and...

States Allow Voting Via Cloud For Citizens Overseas

Florida, Virginia, and California are using LiveBallot, based on Microsoft's Windows Azure platform, for U.S. 2012 primary elections.

Apple's Record Revenue: By The Numbers

As Apple reports its highest quarterly revenue and earnings ever, a few numbers pop. One example: Apple has $97.6 billion in cash on hand, enough to buy Sony five times, or about half of Google.

IBM Netezza Appliance: Speed Lane To Retail Insights

Combining data warehousing essentials with prepackaged analytics for retailers, IBM optimizes cross-channel analysis from point-of-sale to social networks.

QUOTE OF THE DAY

For sleep, riches and health to be truly enjoyed, they must be interrupted. -- Jean Paul

ALSO SEE

Join Fritz Nelson and David Berlind TODAY for another episode of our monthly live web TV show featuring some of the hottest companies, technology and people in Silicon Valley. This Month: Sanjay Poonen of SAP Global Solutions talks about the company's moves in the cloud. Plus: Cool CES Tech and a nifty giveaway!

Register For A Reminder JOIN THE CONVERSATION Posted By JMOSS000:

"With all that brain power and a new CEO and they still dont see the answer right in front of them. THEY HAVE TO ADD A ACTIVESYNC CLIENT TO BE IN THE GAME."

In reply to: "RIM's New CEO: 5 Must-Do Items"View Entire Response

|

Post Your Own Reply
DOWNLOAD DARK READING'S JANUARY 23rd DIGITAL ISSUE

The right forensic tools in the right hands are just a start. The new 'Digital Detectives' issue of Dark Reading shows you how to better apply the lessons they teach.

DOWNLOAD NOW (Registration Required)

ANALYTICS & WHITEPAPERS
MOST POPULAR NEWS
12 Hadoop Vendors To Watch In 2012
Promising low cost and unheard of scalability, Hadoop has been called the next-generation platform for data processing. Check out the vendors taking Hadoop to the next level.
10 Epic iPad Apps
Apple's iPad completely changed the way people think about tablets and mobile computing. These 10 must-have iPad apps will help you understand why.
When Uncle Sam Can Demand You Decrypt Laptop
Colorado woman argued that surrendering her full-disk encryption password would violate her Fifth Amendment right against self-incrimination, but a judge disagreed.
Why Personal Health Records Have Flopped
It's not a security, privacy, or data-sharing problem. It's a patient problem.
Hackers Jailbreak iPad 2, iPhone 4S
It took 10 months for hackers to crack iOS 5.0.1. Workplaces that allow bring your own device need to act immediately to avoid potential security risks.
RESOURCES AND EVENTS
Virtual Event: Clouds, Outsourcing, And Security Services
Join us on Feb. 15 for the our virtual event 'Clouds, Outsourcing, And Security Services': Making Providers Part of Your IT Security Strategy. When you attend, you will be able to access live and on-demand webcast presentations as well as virtual booths packed with free resources, and you can also be eligible to win great prizes!
Register Now
---

This e-mail was sent to

EmailAddress

Keep This Newsletter Out Of Your SPAM Folder

Don't let future editions of InformationWeek Daily go missing. Take a moment to add the newsletter's address to your anti-spam white list:

email@techwebnewsletters.com

If you're not sure how to do that, ask your administrator or ISP.

Or check your anti-spam utility's documentation.

We take your privacy very seriously. Please review our

Privacy Statement.

Slideshows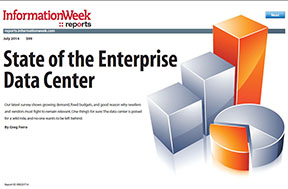 Research: 2014 State of the Data Center
Our latest survey shows growing demand, fixed budgets, and good reason why resellers and vendors must fight to remain relevant. One thing's for sure: The data center is poised for a wild ride, and no one wants to be left behind.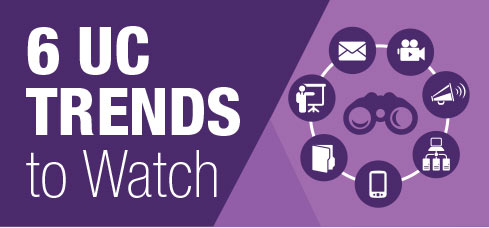 6 UC Trends to Watch
InformationWeek's 2014 Unified Communications Survey shows a revitalized market; 77% of 488 respondents have deployed UC or plan to within 24 months. Among those deploying or with plans, internal IT owns this tech: 40% will keep UC completely on premises vs. 3% going all cloud. For hybrid setups, 24% are primarily on premises vs. 17% mostly cloud.