Android Malware: Beware Counterclank | Google Fights Phishing
MUST READ Google, Microsoft Say DMARC Spec Stops Phishing By Thomas Claburn

New email authentication framework called DMARC, backed by major email and security tool providers, aims to make spoofed domains in messages a thing of the past.

RELATED • Aggressive Phishing Attack Targets Military Personnel• 9 Ways To Minimize Data Breach Fallout Android Counterclank: Malware, Or Smartphone Advertising?

Apperhand SDK drops a search icon onto the Android desktop and tracks your device's ID, but so does any adware. Here's what you need to know.

Kindle Fire Sales Hit 6 Million In Q4

Amazon's Android-based tablet expected to boost year-end revenues, which the company is slated to report Tuesday.

Time To Scrap SSL?

Many security experts believe the Internet's trust model is broken. Figuring out how to fix it will take time and collaboration.

Commodity Hardware Meets Mission-Critical Apps: Success Story

Here's how First American Title Insurance saved $800,000 by exchanging its HP Superdome hardware for commodity x86 servers, and resisted pressure to move from SQL to Oracle database technology.

Google, Microsoft Say DMARC Spec Stops Phishing

New email authentication framework called DMARC, backed by major email and security tool providers, aims to make spoofed domains in messages a thing of the past.

Coke Super Bowl Campaign Blends TV, Tablets And Smart Phones

Coca-Cola's animated polar bears seen on TV will 'respond' to Facebook and Twitter comments and post fan photos and videos as part of a social-media-integrated campaign.

BroadSoft To Deliver UC Platform For Service Providers

Business Communicator brings voice, video, IM, text into one interface.

QUOTE OF THE DAY

Borrowing is not much better than begging; just as lending with interest is not much better than stealing. -- Doris Lessing

ALSO SEE WE INVITE YOU TO... "The Innovative CIO: Leadership, Innovation, and Global Change,"

an executive education program running in March at Stanford University. The three-day program includes keynote, classroom, and other hands-on sessions focused on the CIO's role in driving innovation.

Get More Details And Register To Attend JOIN THE CONVERSATION Posted By LifeGrapher:

"Microsoft is the company that built an OS where you had to hit a button labeled "Start" in order to shut your system down. Does anyone really want to buy a mobile phone with their software on it?"

In reply to: "Why RIM Should Cut BlackBerry Losses"View Entire Response

|

Post Your Own Reply

ANALYTICS & WHITEPAPERS
FEATURED WHITEPAPERS Malware War: How Malicious Code Authors Battle to Evade Detection

The stakes have never been higher in the fight for control of corporate and consumer devices between malicious code and the antimalware software designed to detect and stop it. It's a war of one-upsmanship, as security labs work 'round the clock to analyze malicious code and the bad guys design new, ingenious ways to frustrate analysts and automated tools. This Tech Center report covers the key methods malware writers use to thwart analysis and evade detection.


Download Now (Registration Required) The Business Case for Managed DDoS Protection

Discover how DDoS attacks are getting larger, more sophisticated and dangerous. Learn the risks to Internet infrastructure, revenues and brand equity. See how those risks multiply the more your business depends on the Web. This white paper also includes an ROI study which outlines the business case for using a cloud-based managed service. You'll be surprised to learn how quickly the right solution can pay itself, sparing your business substantial revenue losses and PR issues.


Download Now (Registration Required)
MOST POPULAR NEWS
RESOURCES AND EVENTS
Virtual Event: Clouds, Outsourcing, And Security Services
Join us on Feb. 15 for the our virtual event 'Clouds, Outsourcing, And Security Services': Making Providers Part of Your IT Security Strategy. When you attend, you will be able to access live and on-demand webcast presentations as well as virtual booths packed with free resources, and you can also be eligible to win great prizes!
Register Now
---

This e-mail was sent to

EmailAddress

Keep This Newsletter Out Of Your SPAM Folder

Don't let future editions of InformationWeek Daily go missing. Take a moment to add the newsletter's address to your anti-spam white list:

email@techwebnewsletters.com

If you're not sure how to do that, ask your administrator or ISP.

Or check your anti-spam utility's documentation.

We take your privacy very seriously. Please review our

Privacy Statement.

Slideshows
Audio Interviews
Archived Audio Interviews
Jeremy Schulman, founder of Schprockits, a network automation startup operating in stealth mode, joins us to explore whether networking professionals all need to learn programming in order to remain employed.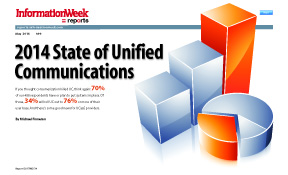 2014 State of Unified Communications
If you thought consumerization killed UC, think again: 70% of our 488 respondents have or plan to put systems in place. Of those, 34% will roll UC out to 76% or more of their user base. And there's some good news for UCaaS providers.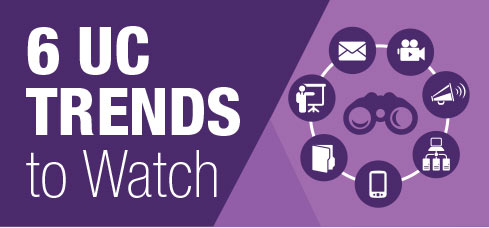 6 UC Trends to Watch
InformationWeek's 2014 Unified Communications Survey shows a revitalized market; 77% of 488 respondents have deployed UC or plan to within 24 months. Among those deploying or with plans, internal IT owns this tech: 40% will keep UC completely on premises vs. 3% going all cloud. For hybrid setups, 24% are primarily on premises vs. 17% mostly cloud.