Cloud Apps Management: The Power Of The Crowd
Maintaining application service levels for shared services is tough. Look to crowd sourcing, real-time collaboration, and big data analytics for help.
When was the last time you went to your favorite office superstore to buy a piece of packaged software? I thought so.
Software-as-a-service (SaaS) and cloud storage have completely changed the consumer computing market. Other than Microsoft Office and a few resource-intensive applications for photo and video editing, apps are running in the cloud, delivered and managed from the cloud, or storing data in the cloud.
The same trend is coming to enterprise IT. While many organizations have moved from packaged software to IaaS providers like Amazon Web Services and Azure, many more will simply adopt pure SaaS offerings. These new services align with user and organizational demands, and their pay-as-you-go pricing models fit current business budgeting and purchasing needs. They also get IT departments out of the costly business of building, maintaining, and securing data centers.
The question for IT teams is how to manage and maintain application service levels for users when everything about cloud-based apps is shared. The data center the application runs in, the servers, storage, databases, and ISP networks delivering them are all shared resources. Almost all of the service delivery chain, except for a little bit behind the company firewall, is shared by their organization and lots of other companies using the app.
There's no "one butt to kick" if there are problems in that infrastructure. Rather, there are many app and network providers, so finding the right butt to kick is itself a big challenge. This can result in lengthy outages and poor user experience.
It takes a village
With all of these stakeholders, application service-level management is no longer about "me." It's about "we." And because cloud apps and services are inherently global, distributed, and shared, so too must be the task of monitoring. By recognizing this and adopting tools and practices optimized to these characteristics, IT can address the challenges of managing cloud-based apps and create opportunities to increase its value and relevance to the business.
Three technology trends are fundamental to this transformation: crowd sourcing, real-time collaboration, and big data analytics.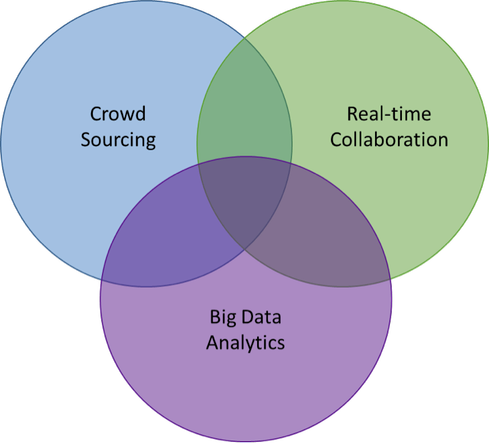 Crowd sourcing
A tremendous amount of the software enterprises use today is a result of crowd sourcing. By enabling hundreds or even thousands of developers to simultaneously work on a piece of software, crowd sourcing -- like open source -- speeds development and improves quality. Wikipedia, Kickstarter, and even CAPTCHA and Duolingo are all examples of the power of crowds in action.
The common theme is the ability to quickly solve problems by dividing them up and distributing them to a large, unmanaged group of individuals. So, why not empower IT teams to do the same? As a user of Salesforce.com, for example, I'm inherently part of the global user community. It would be great if I could easily harness the power of that community, both passively (e.g., obtaining real user performance data from other customers) and actively (e.g., leveraging the crowd to globally test a DNS entry). This would allow me to scale my IT operational capacity as limitlessly as the cloud scales my compute and storage capacity.
Real-time collaboration
In order to be effective, the collaboration with the crowd must be done in real time. Facebook, Twitter, and Instagram have conditioned us to expect instantaneous many-to-many communication in our personal lives, and this is pervading business communications as well. Microsoft's Project Oslo, which blends Office, SharePoint, and Yammer, is a great example of where things are heading.
However, real-time collaboration isn't just about tagging and text messaging. IT, in particular, needs real-time data collaboration with the crowd. In financial markets, stock exchanges provide this type of real-time data for securities, and investors (perhaps too readily) make decisions based on this data. In many ways, IT is becoming a cloud app broker for the business, and like their financial counterparts, IT can better serve its customers when it has this type of real-time crowd data access.
Big data analytics
Big data analytics and business intelligence solutions have become essential tools for many financial, sales, and marketing organizations. Collecting the data is important, but the real value comes from deriving actionable intelligence from it. IT will increasingly need to employ these types of solutions to help it detect, pinpoint, and resolve service delivery issues based on the real-time crowd data it collects. Splunk has been a leader in this for traditional on-premise applications, but more solutions like this are needed in the cloud.
With easy exchange of performance and configuration data by the crowd, IT teams will have the ability to take much of the guesswork out of their management of cloud-based apps. Looking for best-practices in deploying Workday? Don't wait for an analyst whitepaper. Query and analyze real data from the crowd of other Workday customers. Wondering what the impact will be for a change in your ADFS configuration? Run a hypothetical analysis against the data. IT decisions can be made more quickly and with greater confidence.
We are in the early stages of a fundamental change in the roles and responsibilities of business IT, brought about by the irresistible benefits of cloud-based apps and services. This transformation will be as profound as the changes brought on by desktop computing, server virtualization, or tablets. There are numerous challenges along the way, but as new tools and practices evolve, IT teams will find themselves able to support and accelerate business objectives in ways unimaginable before the cloud.
Patrick has more than 20 years of experience leading organizations through challenging product strategy, marketing, and development initiatives. His background includes leadership roles in multiple disciplines, spanning high-level organizational and market strategy to ... View Full Bio